STEP 1
Prepare the Eroticgel Nuru
Massage Powder.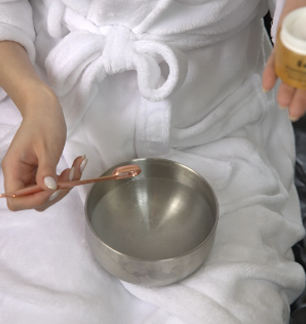 STEP 2
Evenly sprinkle around 1 tsp (5g) of
powder to every 500ml (17 fl oz) of
warm water (40 °C/104 °F).
STEP 3
Mix until the powder has dissolved &
wait around 10 minutes for the gel
to form. If clumping occurs, it will
dissipate with time.
STEP 4
Adjust the amount of powder and
water to personal reference. Enjoy!
ARE YOU ENJOYING OUR MASSAGE
GELS AND POWDERS?
HERE'S OUR TREAT FOR YOU!
GET A 10% DISCOUNT* ON YOUR NEXT
ORDER WHEN YOU USE THE CODE
NURUTREAT
*applicable for massage gels and powders only